Liberty and Equality; these are two things that people love, fight and strive for every day. Something that our founding fathers dedicated their lives to winning and ensuring for the future generations.  Something so dear to humans that most wars that have been fought, were defending liberty, equality, or a homeland.  If people don't have liberty, they don't have anything. If there isn't Equality, there are people who are constantly looked down on because of their race, color, etc.
When a government is controlling what you teach, preach, and believe, you don't have enough liberty.   You know what, I believe that Liberty is one of the most important things to have in a nation.  If the government strips all of the possible liberty and rights from their citizens, there is going to be constant rebellions and uprisings.  These cost the government money, and a heck of a lot of confusion, chaos, and instability.
Equality is also very important.  Ever since the Revolutionary War, this country has been focused on creating equality for everyone. Starting with the declaration of independence, which stated that all men were created equal.  When the slave trade was abolished, we took another step towards equality between races.
Jim Crow was a big thing that stood in the way of liberty and equality for a long time, because even after the possession of slaves was outlawed, the American people still held the same sentiments toward Black people.  They were viewed as underlings, not as good as white people, and were treated terribly.   The Jim Crow laws were laws that segregated the blacks and whites in everyday places, such as in cafes, restrooms, buses, schools, churches, and even at drinking fountains.
This was not equality.  Black people, Hispanics, and Orientals were severely persecuted for not being white.  People started standing up for what they believed.  Martin Luther King Junior led marches and  held rallies.  Rosa Parks refused to be treated like trash on a bus, and they both got sent to jail.
Huge boycotts were held, and a point was made.  African-Americans were ready for some real equality, and they were going to protest and fight for their God-given rights, until they got them.
Finally, in 1954 a huge step was taken towards equality in the US.  The Supreme Court outlawed the segregation of schools. They finally ruled that it was unconstitutional.  For a while, students had to be escorted by soldiers, so that they wouldn't get beat up on the way to school, which was now desegregated. (This meant that African-Americans could now go to  "white" schools.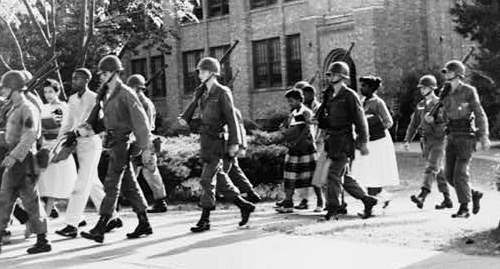 Anyways, long story short, Jim Crow was ended, and today, equality is becoming more and more popular.  People of other races and colors aren't treated like animals, and they are given the same rights as white people.
In conclusion, Liberty and Equality are two of the most important things that you could ever possess.  Be thankful that you live in a country that was built on the principles of freedom, and pray that the rights that we have right now will never be taken away from us.
-Odessa